Books:






Short stories:


Also:






Join my newsletter: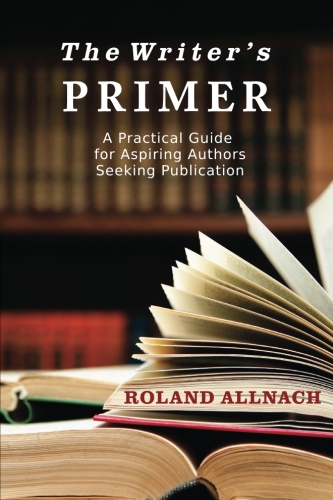 The Writer's Primer - Reviews & Interviews
For reader reference:
- View or print a PDF excerpt of The Writer's Primer here.
For more information and purchase links, visit the dedicated page for The Writer's Primer.
Interviews:
Reviews:
5 Star Review, by Emily-Jane Hills Orford for Readers' Favorite

Becoming a writer is one thing, but becoming a published author? It's a lot of work and dedication. There are so many pitfalls and disappointments along the way. The main thing is that writers/authors must be dedicated to their craft, no matter what the critics say, no matter how many rejections they receive. It's a 'tough skin' line of work.

Author Roland Allnach has considerable experience as a writer, as an author, and in the realm of publishing and promoting books. With his expertise, he leads the would-be as well as the established writer through the mire and confusion of the world of writing and publishing. His book, 'The Writer's Primer: A Practical Guide to Aspiring Authors Seeking Publication,' looks at the entire spectrum of being a writer, being an author, being a published author, from the very basics of writing a short story to the final and very time-consuming aspects of promoting and marketing the published book.

With the firm belief in the old saying that "there's a good book in every person," Roland uses this guide to encourage as well as coach writers to hone their craft. Each chapter addresses a different aspect of writing, and is, in itself, a mini-course, complete with useful anecdotes and amusing scenarios to help writers understand and appreciate each vital aspect of the world of writing. His section entitled Basic Writing Mechanics may seem very 'basic,' but it's well presented in a comprehensive manner that not only makes the beginning writer understand, but also helps the established writer improve his/her craft.

Since all writers, beginners and established, are continually 'aspiring' to improve their craft, this book, a guide to 'aspiring authors,' applies to us all. A very informative and interesting presentation of the creative art of writing. Well done!
5 Star Review, by Faridah Nassozi for Readers' Favorite

The publishing world is an open entry field that embraces hopefuls from all walks of life. However, many of these hopefuls do not know what the journey really entails. Through 'The Writer's Primer: A Practical Guide for Aspiring Authors Seeking Publication,' award-winning author Roland Allnach seeks to prepare these aspiring authors for the journey ahead. Drawing from his own experience, Roland Allnach shares valuable insights on what to expect and how to navigate the waters for those seeking to become published authors. Whether you want to write short stories or novels, familiarize yourself with the entire field from start to finish to ensure that you are adequately prepared.

Roland Allnach gives you a 360-degree view of the publishing world; from what to expect, how to get started, all the way to ensuring that your book reaches its intended audience, and everything in between. If you are looking to be sufficiently prepared for your journey into the publishing world, reading 'The Writer's Primer: A Practical Guide for Aspiring Authors Seeking Publication' by Roland Allnach is definitely the right place to start. This book sheds light on the entire process from beginning to end so you know what you are getting yourself into as you take your first step into the publishing world. For those already in the field, it will help push you in the right direction. Whether you are an aspiring author looking for valuable insight on what to expect in the publishing world or an already existing author looking to polish your skills, you will find this book a worthy read.
4 Star Review, by Janelle Fila for Readers' Favorite
'The Writer's Primer: A Practical Guide for Aspiring Authors Seeking Publication' by Roland Allnach is a non-fiction book that aspiring writers and authors can use as a guide into the publishing world. If you don't know the difference between a writer and an author, then this book will explain! It covers a wide range of topics, from new writers who want to write one story to those interested in a long, expansive career over many years with many published books. The book is full of personal inspirational stories from the author's experiences, and gives multiple real life examples that support the text. It is a deep, in depth explanation of the complicated publishing world and covers information that will appeal to a number of people who are interested in publication, regardless of the genre in which the person writes.

'The Writer's Primer' is a much needed book because, as most aspiring writers know, publishing is a hard world to manage. Having another writer share their experiences is not only educational but also inspiring! Allnach does a good job of personalizing this non-fiction work to make it more than just a book about publishing. It is a writer's first glimpse into the publishing world. It tells readers what options are available and what it takes to accomplish those goals. And Allnach always follows his suggestions with real examples. That was something I really appreciated about this book. I liked reading Allnach's personal story and how it related to the publishing world.