Author Bio:
Roland Allnach has been writing since his teens, but did not actively seek publication until 2007. After working midnights at a hospital for more than twenty years, he has seen and experienced life from a different angle, a perspective he brings to his characters and stories. Though he works with different genres, both his inspirations and aspirations reside in classical literature and in portraying vivid characters in stories that continue to satisfy on repeated readings.

Roland has had numerous short stories published, one of which was a 2010 Pushcart Prize nominee. He has since shifted his focus to book publication, starting in 2010 with Remnant. This was followed in 2012 with Oddities & Entities, Prism (2014), and, in 2015, by The Digital Now and The Writer's Primer.

Together, his books have been recognized with more than a dozen national literary awards, including National Indie Excellence Awards, Foreword Reviews Book Awards, Pacific Book Review Book of the Year Awards, Feathered Quill Book Awards, and USA Best Book Book of the Year Awards.

____________



Remnant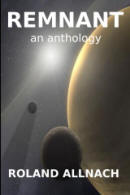 REMNANT is an anthology of three novellas within the speculative/science fiction genres. The stories are linked in theme by characters seeking self-truth, redemption, and their moral center. The novellas, in order of appearance, are: "All the Fallen Angels", in which a convicted war criminal attempts to make peace with his past; "Enemy, I Know You Not", in which a military officer that was captured and tortured tries to find his loyalty in an abyss of suspected betrayals; and "Remnant", in which the survivor of a global pandemic is confronted with the prospect of making peace with his memories when other survivors attempt to bring him back from self-imposed isolation.
Book information:
Format: Paperback, square bound, 8.9x6x0.6 inches, 216 pgs.
ISBN 10: 098462970X
ISBN 13: 978-0984629701
Publisher: All Things That Matter Press
Publisher website: www.allthingsthatmatterpress.com
Publication date: November 2010
Available at: Amazon.com, Amazon Kindle, Barnes & Noble.com (also Nook), Tower.com

Critiques and Awards:
** 'Finalist', Science Fiction category of 2011 National Indie Excellence Awards
** Bronze Medalist, Science Fiction, 2012 Readers Favorite Book Awards
** Award Winner - Finalist, Fiction/Science Fiction, 2012 USA Book News Best Book Awards
** Bronze Medal, 'Short Stories', 2014 Feathered Quill Book of the Year Awards
- Review by San Francisco Review. (Archived at host; review reproduced on this site here)
- Review by FeatheredQuill.com.
- Review by RebeccasReads.com. (Host site closed; review reproduced on this site here)
- Review by BookReview.com (the site has closed, but the review is archived on the 'Reviews' page).
- Review by Readerviews.com.
- Review by Foreword Clarion.
- Review by Midwest Book Review.
- Independent reviews, at Goodreads page for Remnant.
Interviews regarding REMNANT:
- Interview at Bestsllersworld.com here.
- Interview at Feathered Quill, read it here.
- Interview through Reader Views, hosted at AuthorsDen. Read it here.
Resources:
- View and/or print a PDF book fact sheet here.
- View and/or print a PDF media kit here.
- The files are also available for download (right click the link, and 'Save Target As..').
- An excerpt of Remnant is available here.
PDF files require Adobe Acrobat Reader to view/print. Reader is free for download from Adobe here.
Please note Adobe, Acrobat, and Reader are all property of Adobe.